Essential Dispatch Management Features for CEPs
The global courier, express, and parcel (CEP) industry has undergone a remarkable transformation over the years. The market size is estimated to grow at a CAGR of 10.64% from 2023 to 2028.

Multiple factors, such as a rise in e-commerce sales, increased usage of smartphones, and customers' expectations for quick delivery, have reinstated the relevant and increasing dependance CEP companies in the past few years.
CEP businesses have started investing in digital capabilities to accommodate the changing market landscape and boost operational efficiency while effectively meeting customer demands.
Dispatch Management Software is one such solution that has helped the CEP focused businesses to scale up their capacity and balance surges in order volumes, heightened customer expectations, and the need for shorter delivery windows.
What is Dispatch Management Software in the CEP industry?
Dispatch management software manages and optimizes end-to-end orchestration of delivery fulfillments in the Courier, Express & Parcel industry. It also helps in identifying delivery bottlenecks and highlighting inefficiencies within the process with a more proactive approach.
It helps in enhancing the operational efficiency by offering proactive solutions and bringing down the additional costs associated with the delivery cycle. There are multiple challenges in the CEP industry which can be efficiently addressed with the implementation of dispatch management software.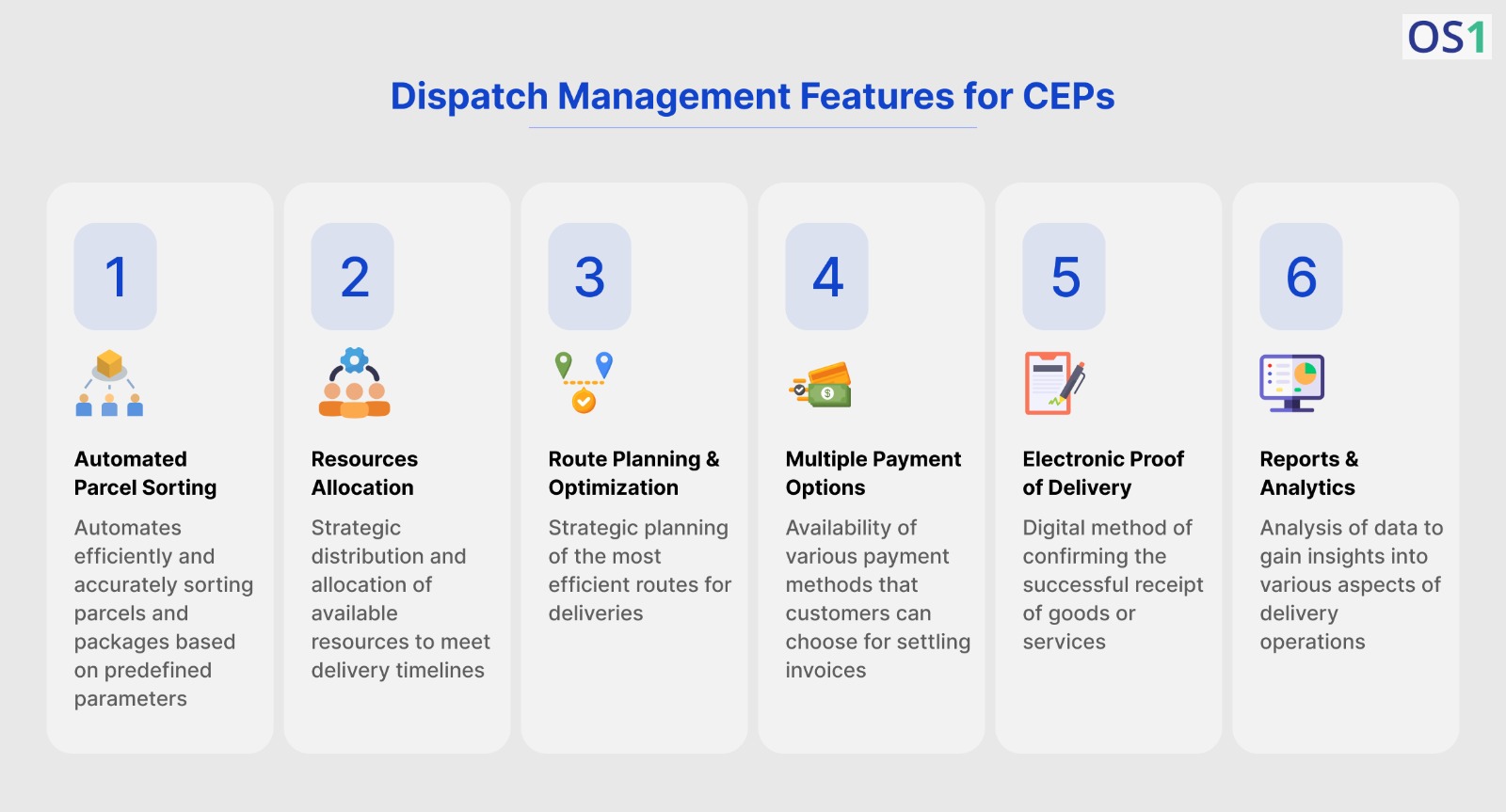 Dispatch Management Features in the CEP industry
Here is the list of essential dispatch management features for CEPs.
Automated Parcel Sorting
Dispatchers in the Courier, Express and Parcel industry often deal with a substantial daily order load. Traditionally, they've been tasked with manually sorting parcels, a tedious and error-prone process that consumes time and incurs overhead costs, ultimately affecting delivery efficiency and SLA compliance.
Automated parcel sorting features enable intelligent sorting of incoming parcels quickly based on their predefined parameters. The feature reduces human intervention, enhances operational efficiency, and introduces flexibility to accommodate fluctuations in seasonal order volumes, ultimately streamlining logistics processes.
Allocation of Resources
To efficiently manage multiple dispatches in a day, especially when dealing with a high order volume and tight delivery windows, dispatchers face the critical responsibility of accurately assigning delivery tasks to delivery agents. Dispatchers need to opt for more evolved methods over traditional task allocation methods.
Dispatch software enables real-time dynamic allocation and optimizes load distribution. By leveraging this feature, dispatchers can select the best-suited driver for a particular delivery task. This strategic allocation ensures that services are carried out seamlessly, minimizing overlaps and unnecessary mileage, thus optimizing the entire delivery process.
Route Planning & Optimization
Multiple routes and sub-routes are used to fulfill different delivery commitments. The choice of routes holds a significant role in ensuring timely, efficient, and cost-effective parcel delivery.
Dispatch management software has the extended capability of allowing dispatchers to generate optimal route plans based on various factors, including time windows, SLA adherence, resource availability, and many more. These intelligently generated routes enable drivers to maximize efficiency by consolidating multiple deliveries into a single route, streamlining operations, and enhancing overall productivity.
Multiple Payment Options & Cash Reconciliation
Customers increasingly prefer a more comprehensive range of payment options, especially for Cash on Delivery (COD) orders. Moreover, for every COD order, collected cash needs to match with the expected payments based on the delivery orders and invoices. Accommodating these dynamic requirements can be challenging for Courier, Express and Parcel providers relying on traditional apps or systems.
Dispatch software comes with easy-to-integrate APIs to support multiple payment options. This feature empowers customers to select their preferred payment method and enhances the user experience. It simplifies the payment process for both parties, improving customer satisfaction and operational efficiency. The software streamlines cash reconciliation by efficiently recording each transaction, cross-checking the anticipated and actual collected amounts, and generating comprehensive reports summarizing cash collections while highlighting any cash discrepancies.
Electronic Proof of Delivery
On a typical day, various courier agents handle multiple deliveries. To ensure a smooth process and avoid any post-delivery conflict or discrepancies, it is highly recommended to have a confirmation from customers upon parcel receipt.
The dispatch software simplifies this crucial step with its pre-built Proof of Delivery (POD) feature. This feature allows agents to effortlessly collect digital confirmations of order delivery directly from the recipients. The POD feature accommodates various formats, including live photos, digital signatures, and one-time passwords (OTPs), effectively marking the conclusion of the delivery lifecycle. This versatile functionality ensures a robust and reliable verification process, enhancing transparency and trust in the delivery workflow.
Reports & Analytics
Dispatch management software includes the capability to generate Key Performance Indicator (KPI)-driven reports at regular intervals. These comprehensive insights and data provide dispatchers with the information they need to make well-informed decisions.
Within the Courier, Express, and Parcel (CEP) industry, this feature is utilized to assess resource performance, identify hidden inefficiencies, and anticipate future demands in operational functions.
Choosing the right dispatch management software
DispatchOne is a powerful dispatch management software solution that empowers Courier, Express, and Parcel (CEP) businesses to optimize their operational processes and adapt swiftly to dynamic market shifts. This scalable, ready-to-use, and flexible solution has distinctive features, including customizable workflows, real-time tracking, location intelligence, and more.
If you're seeking to elevate your current operations while capitalizing on growth opportunities, feel free to get in touch with the team.