The Ultimate Guide to Starting a Cannabis Delivery Business
The legalization of cannabis in the US has opened up rapid and substantial business opportunities. The market is projected to experience a remarkable 34.03% Compound Annual Growth Rate (CAGR) by 2030.

Businesses starting with cannabis delivery should be prepared in the market to mitigate operational challenges and sustain healthy profit margins. Here is the step-wise guide for getting started with cannabis delivery business.
Cannabis Delivery Business- A brief Overview
A cannabis delivery business provides the convenience of delivering cannabis directly to customers' doorsteps. The surge in demand for cannabis for recreational purposes following its decriminalization in the United States has transformed it into one of the fastest-growing markets. Customers expect a convenient and smooth cannabis delivery experience.
Businesses with cannabis delivery have to comply with several regulations (legal age of recipient, delivery address type, permitted delivery zone, delivery limit and many more) and document their compliance. Licensing requirements and laws vary significantly from one state to another, necessitating careful consideration based on the specific service areas.
Before starting a Cannabis Delivery Business, it's crucial to have a comprehensive understanding of the diverse rules and regulations governing cannabis delivery across different states. Here's a sneak peek at the states where cannabis delivery is authorized or restricted.
Cannabis Delivery Market in US
The market can be broadly categorized into four main segments:
States that permit cannabis delivery exclusively for medicinal purposes.
States that allow cannabis delivery for both medicinal and recreational purposes.
States that legalize cannabis for both medicinal and recreational use but do not permit delivery services.
States that impose restrictions on cannabis delivery for both medicinal and recreational purposes.
The following table outlines the states that permit recreational and medicinal cannabis delivery, along with the corresponding set of regulations and licenses required for these services.
States where Cannabis Delivery is Permitted for Medical & Recreational Use
Name

Required Licenses

Case Pack Value

Delivery Guidelines

California

Type 9 &Type 10

Up to $10,000

Between 6 am to 10 pm

Colorado

Transporter License

$5,000- $10,000

Between 8am to 12 am

Connecticut

Transporter & Retailer

1 ounce for Recreational & 5 ounce for Medicinal use

During Business Hours

Maine

Retail Cannabis Establishments

2.5 ounces of cannabis and 5 grams of concentrate

Between 7 am to 10 pm

Massachusetts

Couriers, Delivery Operators & Delivery Endorsements

Up to $10,000

Between 8 am and 9 pm

Michigan

Retailers, Provisioning Centers & Microbusinesses

Up to $5,000

During Business Hours

Missouri

Medical & Comprehensive License

3 ounces is recreational &

6 ounces is medicinal limit

Dispensary's hours of

operation.

Nevada

Distributor & Retailer

Amount Requested for delivery

Dispensary's hours of

operation.

New Jersey

Class 5 Retailer & Class 6 Delivery License

1 ounces is recreational &

3 ounces is medicinal limit

Based on Local Jurisdiction

New Mexico

Courier, manufacturer & Retailer

Up to $10,000

In compliance with local laws

New York

CAURD & Vertically integrated

3 ounces

Between 8 am and 12 am

Oregon

Retailers

$3,000

Between 8 am and 9 pm

Rhode Island

Industrial hemp and CBD & Compassion Center

$7,500

Between 8 am and 8 pm
Reasons to start Cannabis Delivery Business
Legalization of Cannabis Delivery
The legalization of cannabis delivery in many states has opened up new opportunities for businesses. With the necessary licenses, entrepreneurs can now initiate their cannabis delivery operations. Previously, cannabis delivery was prohibited, making it a viable business option. However, with recent legalization, starting a cannabis delivery service is now a viable prospect.
Huge Market Opportunity
The cannabis delivery market is in a remarkable growth phase, presenting abundant opportunities for service providers looking to establish a presence in the industry. The momentum behind this expansion can be attributed to the increasing trend of decriminalization and legalization of cannabis in various regions, which has, in turn, opened up a diverse range of business prospects.
Flexible Business Models
The ability to choose from various delivery models, such as direct-to-consumer or working with multiple merchants, helps tailor the cannabis delivery business to local regulations, business goals and market demands. This flexibility allows businesses to adapt to the operating area's specific conditions and customer preferences.
Limited or No Authorized Suppliers in specific geographies
After the decriminalization of cannabis for both recreational and medicinal use, there is a growing demand for authorized service providers. This has created significant opportunities for entrepreneurs to venture into the cannabis delivery business after obtaining the necessary licenses. As people seek safe and legal access to cannabis products, businesses that can meet these needs stand to benefit from a potentially lucrative market.
Types of Cannabis Delivery Business Model
Direct-to-Consumer Model
In the direct-to-consumer model, cannabis delivery service operators directly deal with customers and receive orders. A rapid dispatch plan is generated and communicated to delivery agents for every order received. The cannabis providers strategically operate small branches, franchise locations, or fulfillment centers to enhance operational efficiency. This approach allows for a personalized customer experience, reaching a broader customer base, and extending geographical coverage.
Single Storefront Model
This business delivery model helps standalone shops grow their cannabis business by transitioning to an online platform and introducing a delivery service into their existing operations. The service providers can outsource delivery services or establish an in-house delivery team based on the requirements and scaling opportunities. This adaptability allows them to tailor their approach to meet their operational needs and customer expectations in a better way.
Multi- merchant Model
A multi-merchant or aggregator-based cannabis distribution business model involves creating a network of cannabis service providers. This model empowers delivery partners to oversee inventory management, streamline order processing, and handle the execution of deliveries from various vendors to their respective customers. Unlike focusing on a single service provider, this approach allows for the management of multiple cannabis service providers, facilitating a broader and more diverse range of offerings for customers.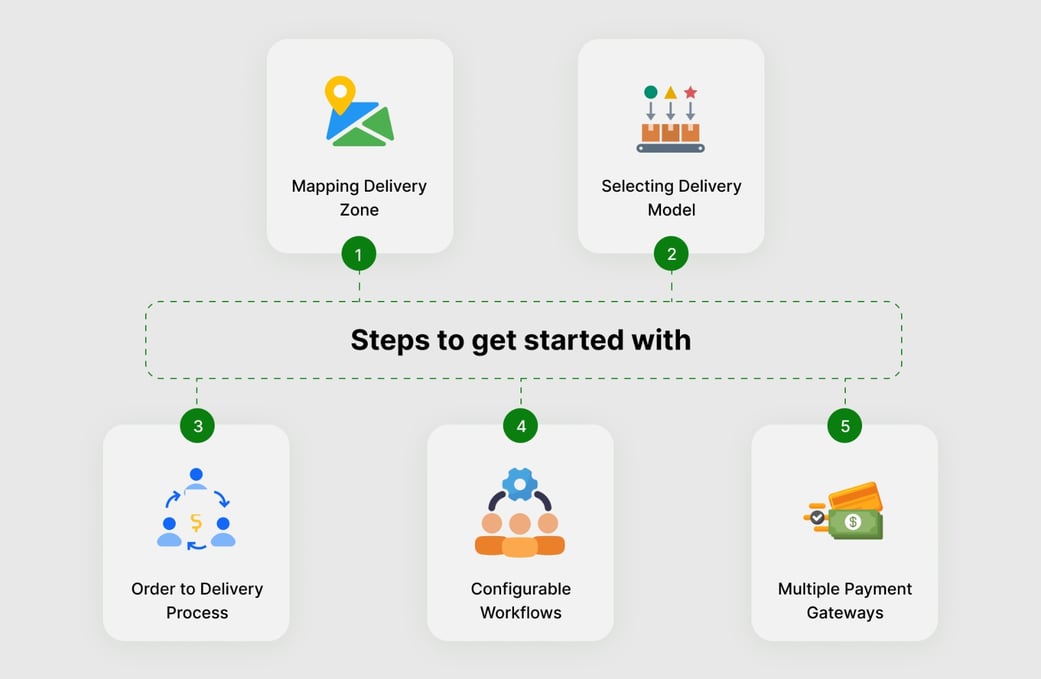 Stepwise guide for getting started with Cannabis Delivery Business
Mapping the operational area
The initial step in starting a cannabis delivery business is defining the operational boundaries. This process involves creating a map of the area and establishing the specific geographic limits within which you intend to conduct your deliveries.
Furthermore, part of setting these operational boundaries is assessing and ensuring compliance with licensing and other regulatory requirements. This compliance is essential to ensuring the smooth and secure handling of operations.
Getting the Delivery License
A cannabis delivery provider must get the necessary licenses before starting operational activities. Each state has specific licensing requirements for becoming an authorized cannabis delivery provider. Once you have determined your operational area, it is essential to thoroughly research and apply for the requisite licenses to ensure compliance with local and state regulations.
Selecting the Delivery Model
Two standard delivery models are used for cannabis delivery: the pizza truck delivery model and the ice-cream truck delivery model. Businesses should carefully consider and select cannabis delivery methods based on the laws and regulations of the state(s) where they operate.
Both delivery models can be used concurrently, allowing your cannabis business to adapt to dynamic requirements per the orders captured for various delivery zones. This flexibility ensures the efficient expansion of your operational process.
Integrating the order to delivery process
Multiple orders captured for cannabis delivery need to be streamlined in one place to ensure quick and proficient dispatch of orders. This can be quickly done by integrating dispatch software into the existing delivery workflows. It helps ensure flawless execution of cannabis delivery operations while simultaneously helping to maintain compliance with the regulations.
Dispatch software offers extended capabilities, including automation and streamlined execution of the order-to-delivery workflow. Incorporating dispatch software into your business processes at an early stage can significantly enhance the management and execution of these workflows, ultimately improving efficiency and customer satisfaction.
Setting up Workflows
When establishing a cannabis delivery business, it's vital to create customized workflows to accommodate the specific requirements, order volumes, and delivery timeframes associated with cannabis orders. This tailored approach ensures that all predetermined factors are considered, promoting efficient and compliant operations.
For instance, in many states such as Colorado, New York, verifying the recipient's age is mandatory during the delivery process. The configurable workflows enable delivery providers to introduce this additional step into the fulfillment cycle to ensure compliance with local regulations.
Moreover, any exceptions or additional requirements during cannabis delivery can be seamlessly accommodated using the workflows. For example, in many states, regulations prohibit multiple deliveries to the same address in a single day. The workflows empower delivery providers to create the necessary triggers and filters to comply with the requirements.
Flexible Payment Options
Offering multiple payment options offers extended outreach to potential customers in the cannabis delivery business. It allows customers to choose their preferred payment method, which can significantly improve the user experience and increase sales.
Moreover, controlling Cash on Delivery (COD) availability based on geographic and customer preferences also helps customize the payment options to specific areas or customer segments. And many more. A well-defined business plan is a cornerstone for launching a successful cannabis delivery business. It establishes a strong foundation for your presence in the market and provides a roadmap for scaling your operations gradually. Planning, compliance, and adaptability are critical factors in navigating the fast-growing cannabis delivery market.
Adapt, Scale and Grow with your Cannabis Delivery Business- DispatchOne
The cannabis delivery market is growing and has the potential to generate better ROI. Adding dispatch management software that can allow your business to streamline operations and enhance the growth curve is a smart way to sustain and expand in the competition.
DispatchOne, powered by OS1, is a turnkey dispatch solution designed to cater to your unique business requirements efficiently. It offers a consolidated dashboard to monitor all orders and automate dispatch, particularly for time-sensitive deliveries. This solution empowers businesses to gain a competitive edge with data-backed insights and the flexibility to adapt to evolving business needs quickly.
For more information, feel free to get in touch with our experts.